Use Air Neck Traction At Home, Work Or Travel
To Relieve Neck Pain Anytime!
Neck pain increases with age and is more common in women. Studies suggest that 71% will have neck pain in our lifetime and up to 34% experience neck pain annually. Additionally, these findings indicate that neck pain is more prevalent in those performing repetitive, static (sedentary) work or physically demanding work, those with previous neck trauma, and among those with associated conditions such as depression, low back pain and headaches.
Neck pain is a public health problem and a common source of disability in the general population. Due to the growing disability burden and compensation costs associated with neck pain related to automobile accidents and occupational injuries, there has been a constant increase in attention paid to neck pain and a growing interest in our Air Neck Traction.

AirNeckTraction™ is an FDA Registered Neck Traction Device.

Neck Pain & Our Traction Device
Our latex free traction device is designed for relief of neck problems. Additionally, with every purchase of AirNeckTraction, you get a FREE Neck Traction Pillow! Comes with Protective Carry Case which is great for storage and travel!
Can Air Neck Traction Help?
With the changing environment of health care and greater responsibility on the part of the individual, we feel the Air Neck Traction may help reduce pharmacy bills, minimize lost workdays, and may even increase the effectiveness of ongoing office visits and physical therapy.
Air Neck Traction is intended for the patient who is independent, capable of using good judgement, and who needs "fast" results when their symptoms exacerbate. It is highly portable, easily used and often very effective in reduction of muscle tension related neck discomfort and cervical radiculopathy (pinched nerve) from degenerative arthritis (spondylosis / facet joint arthrosis) or herniated disc.
Simply place the AirNeckTraction™ device around your neck and adjust to comfort with the fastening straps. Inflate with air using the hand pump to gradually raise the level to a comfortable stretch. When the air neck traction is inflated, it will elongate to support the weight of the head allowing tight neck muscles to relax. Further inflation will stretch the neck and shoulder muscles while taking pressure off the discs, joints, nerves and blood vessels.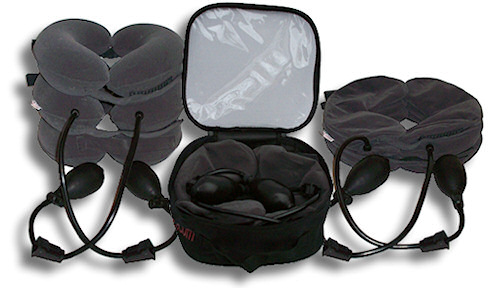 AirNeckTraction™ is an FDA Registered Neck Traction Device.
"I have had the unit for about two years and it has helped my neck and shoulders a lot. So I have really used it and don't have to go to the chiropractor because of the unit."
M. Demereckis
---
"The "A.N.T" [Air Neck Traction] has improved my life and has eliminated the talk of surgery. Sorry to call it the ANT, but just like a ant it does more then you would think it can do. It has changed my life, even my doctor thought I was heading to the knife even after 6 weeks of therapy. I believe in the A.N.T. so much that I will take it as a complement to have my full name associated with it. Thank you for the great service!"
John Bucci.
---
"Thank you so much! I would like to say that your Pro Air Neck Traction a few times has actually adjusted my neck! I feel the relief right away and have felt my neck adjust gentler than some of the chiropractic sessions I have had. I would definitely refer Air Neck Traction to anyone with cervical problems. You have a great product! I am Pre Surgical due to a 8mm fragmented disc in my c3-c4 and your product provides much pain releif when the medications don't. Hopefully it is helping with my c4-c5 3mm bulg so they may not have to fuse all three vertabrae."
James Tutino