If you answer yes to any of the conditions below, it is quite probable that you may be able to use Air Neck Traction to help.
Pain or stiffness when moving neck
Numbness, tingling or weakness in hand(s) or arm(s)
Pain or numbness in shoulders
Pain between shoulders
Muscle spasms in neck or shoulders
Headaches
Degenerative Arthritis
Compressed Disc
Pinched Nerve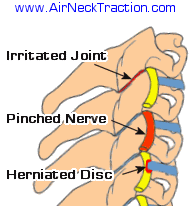 Order Air Neck Traction
The Air Neck Traction is FDA Registered and has adjustable Velcro straps to fit most neck sizes. When partially inflated, the Air Neck Traction works like a neck support. Inflate it further and it will elongate to support the weight of the head (about 10 pounds) which allows the neck muscles to relax. Additional inflating will provide a traction effect, stretching the neck and shoulder muscles, while relieving pressure from irritated disc and joints. The level of inflation is adjustable allowing just the right amount of traction for you. No electrical cords, batteries, weights, straps or annoying chemicals. Air Neck Traction is portable, safe, easy to use and effective.
Using Air Neck Traction, you will feel a gentle stretching of your neck and your shoulders being pushed downwards as your head becomes completely supported. Many users report relief of neck pain, headaches, shoulder tension and even arm and hand pain or numbness associated with nerve and blood vessel compression. It is not for eveyone and you should consult your doctor if your not sure. Results vary, everyone is different.
Please read our Return Policy and Warranty prior to purchase.
We Offer Free Shipping To U.S.A. Only. Read our Shipping Policy for details.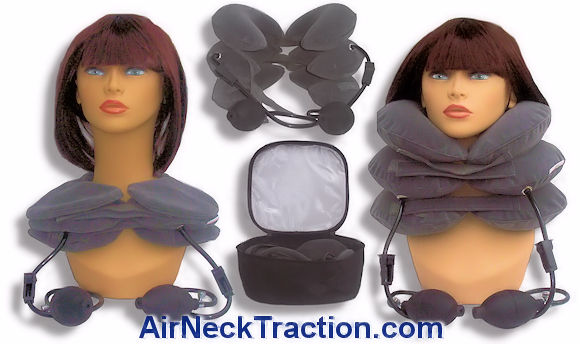 Product Details: Pro Air Neck Traction | Neck Traction Pillow | Carry Case
You should note that the idea behind the air neck traction device is to proceed gently. You should not put it on and pump it up as far as it will go or see how much you can take. Begin gently and gradually progress to higher traction levels over a period of time. Benefits are gained with low levels of traction to mobilize the joints and muscles.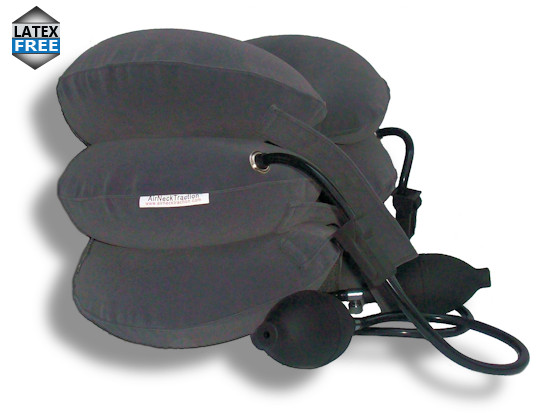 Please note: Due to federal and state health regulations regarding personal contact items, our Neck Traction products are non-returnable once the security seal on the case is broken. All AirNeckTraction Models are assembled in the USA and immediately sealed. Unless defective, you may not return the Air Neck Traction or Neck Traction Pillow for a refund once the security tie has been removed as we do not sell used products which have been possibly contaminated. You and your health care professional may use our neck traction products with confidence knowing each device and pillow is brand new and not a used, repackaged one.
Quantity discounts, please see the Professional Discount Page.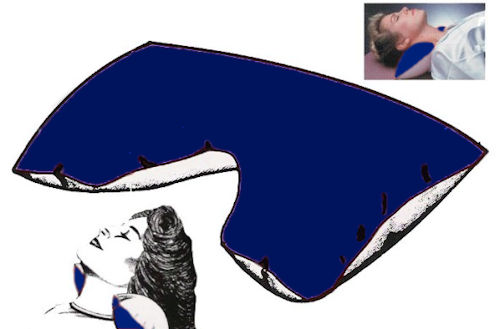 PDF Instruction Manuals: Air Neck Traction | Neck Traction Pillow
We do not have a tryout period and make no claims that our products will cure any condition or alleviate any specific problems. If you have questions, please contact us or consult with your health care professional. If you are not sure - don't buy!