Air Neck Traction Professional Model
The Professional Model is comfortable, lightweight and easy to use for support and traction therapy with a wide range of adjustability. It is easily portable and convenient to take to work, for travel and home use.
Two hand held bulbs inflate the device with air as the traction provides a gentle stretch to the neck which is controlled to your specific level of comfort, pain relief and support. The stretching gently relaxes tight muscles, relieves joint and nerve pressure and supports the head. The lateral or side to side adjustability also makes it a great support to control the head in conditions like ALS.
We first started producing AirNeckTraction in 2007. This is the 4th generation professional model featuring a latex free construction with large inflation bulbs and a 6 point adjustment system. We feel the P4 Model is the best yet. Although there have been many copycats since our first production in early 2007, make sure you have an original by purchasing here, an authorized website or through your health care professional.

AirNeckTraction™ is an FDA Registered Neck Traction Device.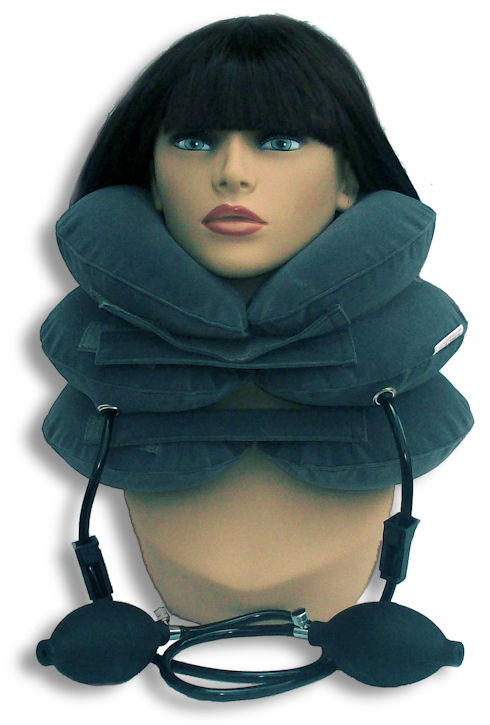 Comfortably works to traction and separate the joints of the neck to remove nerve pressure and assist the muscles and ligaments in support of the head. Poor neck posture can be maintained by muscle tightness and fixations of the joints. The Professional Neck Traction helps loosen these tight joints and muscles.
The Pro Model Air Neck Traction is indicated for tight muscles, pinched nerves, neck pain, tension headaches, poor neck posture and for degenerative discs or joints. It is not for recent injuries or acute conditions where swelling and inflammation are present.
The Professional Air Neck Traction has 2 sides which can be adjusted independently for separate left and right traction levels. The professional models also have 3 velcro adjustment straps which open in the front and the back allowing a wide range of adjustment to fit any size neck and can be adjusted to you or your doctors preference.

The Pro Model Air Neck Traction is latex free. The blocker valves secure the air and prevent backflow and the screw valves allow precise and quick adjustment of left and right neck traction levels.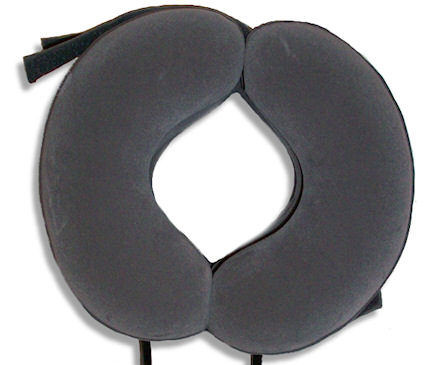 By adjusting the velcro straps, which open completely in the front and back, a wide range of neck sizes will be accommodated with the Pro model. The Professional Air Traction is designed to allow control over lateral excursion seen with conditions that effect head control, lateral flexion segmental restriction and curvature and chronic myofacial disorders. Additionally, support for lateral and medial disc protrusions in traction is afforded as antalgic positions may be accomodated.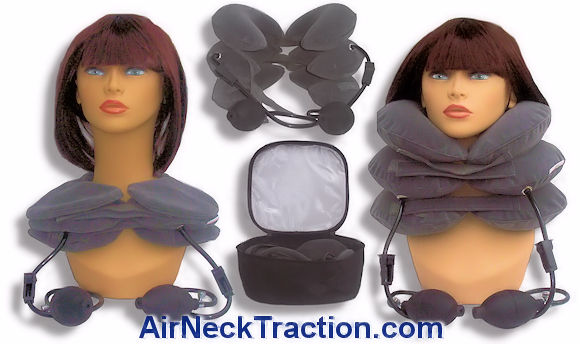 The Original Air Neck Traction product used and recommended by professionals since 2007! The separate side control and a large bulb system reduces the amount of pumping to inflate.

AirNeckTraction™ is an FDA Registered Neck Traction Device.
Air Neck Traction is assembled and sealed in the USA. Because it is considered a personal item and subject to federal health regulations, we seal each unit after assembly. Once this seal is broken, the neck traction unit cannot be returned unless defective, thus ensuring everyone gets a new, clean and healthy unit that can be used in confidence.
PDF Instruction Manual Air Neck Traction Instructions